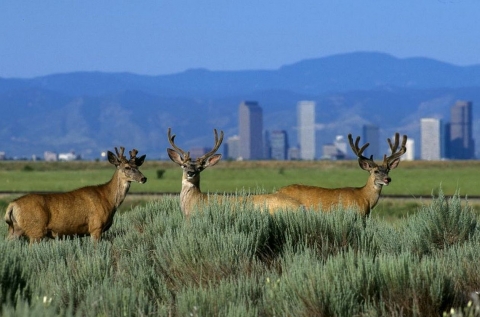 6 Things to do in Colorado while Staying Under Budget
Everyday people search for things to do and ways to entertain themselves, and after a while it can be hard to find something that is both fun to do and easy on the wallet. With gas prices fluctuating between high and really high, and living costing more and more, it's easy to just sit at home bored because the idea of paying more money to leave seems awful. 
Life doesn't have to get boring like that, though, because the state of Colorado is full of cool places to go and fun things to do that don't end up costing an arm and a leg. To make things a little more interesting, check out this list of 6 fun things to do in Colorado that can be done on a budget!
Visit the Rocky Mountain Arsenal Wildlife Refuge- 6550 Gateway Rd. Commerce City, 80022
The Rocky Mountain Arsenal Wildlife Refuge, is one of Colorado's hidden gems. The 15,000 acre refuge is located just 10 miles outside of Denver and is home to hundreds of plants and animals. Visitors to this refuge can see a multitude of animals like mule deer, bison, coyotes, bald eagles, and more. You can stop by the visitor center to get a look at the refuge's extensive past, or you can sign up for one of the many hikes and classes that they offer. The best part? Visiting the refuge is free!
There is something for everyone at the refuge, whether you have a lot of time, or just a little bit, there are trails and tours that work for you. Kids that visit can even earn a junior ranger badge! If you're looking for a great nature experience that's close and cheap, look no further than the Rocky Mountain Arsenal Wildlife Refuge. 
See a movie at Elvis Cinema- 5157 W. 64th Ave. Arvada, 80003
It's a truth of life that seeing movies is expensive. Between the high ticket prices and the outrageous concession cost- it's difficult to get out and see some of the top films when they come out. The Elvis Cinemas is the perfect solution to this ongoing issue. 
There are 3 different cinema locations in Colorado, but each one offers movie tickets at highly discounted prices. Instead of paying $14.79 per adult at an AMC screening of Jordan Peele's newest thriller Nope, you can see the same movie at the same time for only $7.00 per adult! The Elvis Cinemas get the same movies as everyone else, but they don't lighten your wallet nearly as much. It's really a win-win for movie lovers throughout the state. 
Take a trip to the Butterfly Pavilion- 6552 W. 104th Ave. Westminster, 80020
The Butterfly Pavilion is one of those that gets passed by a lot, but not entered. This building is the United State's first non-profit stand alone insect zoo, and it is beautiful. The pavilion has several exhibits that allow visitors to explore the beauty of nature on a different scale. Visitors can see over 1,000 butterflies and hundreds of different plants while inside the pavilion and learn everything there is to know. There is also the chance to visit the famed Rosie- the Chilean rose hair tarantula. Those brave enough to hold her have the opportunity to do so. 
Tickets for adults are usually less than $20 while children's tickets are normally less than $10. For a full day of fun that is also educational, The Butterfly Pavilion offers everything necessary without putting a giant price tag on it. 
Visit the Denver Botanic Gardens- 1007 York St. Denver, 80206
The Denver Botanic Gardens offers another look into the beautiful nature of Colorado. The gardens in Denver also contain a conservatory, themed gardens, and a sunken amphitheater where concerts are often held. The gardens don't just show off the best of Colorado, as they have a variety of plants from neighboring states, as well as other countries. The gardens give visitors the chance to take in the serene beauty without having to drive too far outside the city of Denver. 
Tickets for the gardens remain on the cheaper side, allowing families to visit and enjoy without breaking the bank. 
See a Rockies Game at Coors Field- 2001 Blake St. Denver, 80205
It's hard to think that any professional sporting event could be considered budget friendly, especially when that professional sport is one of America's favorite pastimes. The Colorado Rockies, though, are not like most sports teams- they care about their fans and price the tickets low enough for everyone to enjoy. Tickets to get into Coors Field can start as low as $9.00 per person. 
Even if you aren't into baseball, a trip to see a Rockies game is still a great experience. The drinks are always flowing, and what could beat a true ballpark hotdog. Plus, it's always nice to go out and support the local teams- especially when the cost to do so isn;t an arm and a leg. 
Play Putt Putt Golf at Adventure Golf- 9650 Sheridan Boulevard, Westminster,80031
Why spend more at Boondocks when there is tons of fun to be had at Adventure Golf and Raceway in Westminster. This park is a part of the Highland Hills park family which means it's owned by the same group that runs Water World. You don't have to expect Water World level pricing, though, as a round of golf starts at only $12.75 for adult tickets for Unlimited mini golf. The unlimited golf pass lets visitors play on all three of Adventure Golf's themed miniature golf courses. If you're looking at doing the go karts, bumper carts, or ropes course, you can add them on for less than $10 each. 
Adventure Golf is fit for everyone to enjoy, whether it is a family outing, or a casual hangout with friends. Honestly, who doesn't love a round of mini golf now and then?